CoffeeBiz
First Alpha 2 update is live and introducing timeshifts. Now, after HR tier 1 research and with HR manager working in an office, you can control kiosk timetable. There you can plan two working shifts (6:00-13:00 and 13:00-20:00) for every weekday, so there is no need to change tired worker in midday or evening/morning manually.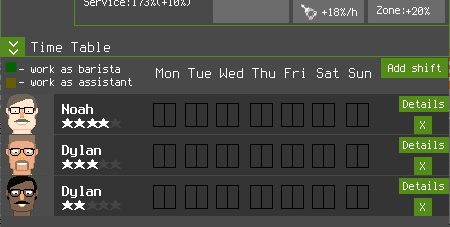 New features
Improvements and Changes
Barista and assistant tasks interface reworked
Worker skills level interface reworked
Pause now disable any game actions
New key events messages: level up, the first weekend
Dirt on kiosks visualized
Reasons why kiosk cant brew coffee shown in kiosk panel
The maximum amount of assistants shown in kiosks shop
Outdoor adverts change visuals when an advertisement is placed
In recipe details, the different wealth attitude to price shown
New objects and details added to the first district
Workers can be placed and removed from a kiosk without closing it
Bugfixes
Fixed salary change limit bug
Fixed customers thought bubbles movement
Fixed wrong XP data above kiosks
Fixed assistants adding performance bonus to themselves
Conditioner icon fixed
Many small bugfixes
Thank you for all your feedback and bug reports. With you and your support, CoffeeBiz evolves the way it should. New updates coming soon, stay tuned.